Services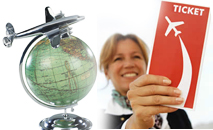 Visa Arrangements
A Visa is essentially required to travel from one country to another. Our experienced travel division is fully equipped for making visa arrangements and travel bookings for travellers. Our visa services include securing and expediting travel visas, tourist visas and business visas for travelling to and from foreign countries. At present Santhosh Travel Services has got the necessary authentication for stamping visas for Saudi Arabia and UAE and also got the ID card for Saudi visa servicing.
Guidance to best Airlines
With a choice of hundreds of airlines it is always confusing to choose an airline to travel. At Santhosh Travels, your comfort is our main concern. Here again we take you to the best airlines which meets your requirements.
Instant Cash Transfer from Global Money Transfer Service
Each country has its own currency and cash transfer works out differently in various countries. But there are easy accessible methods to transfer your cash in a useful way from different service departments. We are one among them. We provide a secure way to send and receive money to and from your loved ones worldwide – and we'll make sure that your money gets to where it is needed quickly.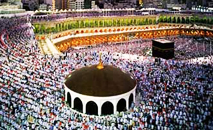 Our diversity of agents and locations gives you choice and convenience, with many offering extended hours so you can send and receive money at a time that's convenient for you. If you have any questions about our local or global services,
Hajj pilgrimage

Santhosh Travel Services offers Haj pilgrimage services to pilgrims bound for the holy pilgrimage to Mecca & Medina. Being in the forefront of other organisations in offering Haj Pilgrimage services we provide the best services at rates that are reasonable.

Jenab Panakkad Hydrali Shihab Thangal inaugurated The registration for the Al Jami'h Haj Group in 2004.


The unique features of our package are:

Stay arranged before the holy Harams
Spiritual guidance by young scholars
Special training for the aged and the women
Special study classes before the commencement and during the pilgrimage

Kerala cuisine
Medical attention
and more





Contact Us
Santhosh Air Travel Service (P) Ltd.,
Ootty Road, Perinthalmanna
Malappuram Dt, Kerala , Pin 679322
Ph: +91 4933 227160, 227495,
223434, 220108, 229528(MD)
Fax: +91 4933 222675